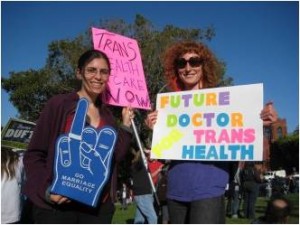 Are you a NP, PA,  MD, or DO student, resident or fellow?
Project HEALTH offers students and post-graduates in the health care profession an in-depth educational experience in transgender health care. We recognize that as a clinic serving LBGT patients we bring a front-line perspective on the health needs of these communities. We believe that this expertise must be shared.
By offering a clinical rotation in transgender medicine we provide participants with an understanding of the health care needs of the transgender community including the special obstacles faced by transgender patients within health care and society. Participants will also gain a more nuanced understanding of the concepts of sex and gender as applied to health care systems and society at large.
Course Objectives
By the end of the rotation, students will be able to:
Identify the components of a trans-friendly health care environment
Take a trans-sensitive history and perform an appropriate physical examination of transgender patients: trans men, trans women, and gender non-conforming
Describe the special primary care needs of transgender patients
Initiate and manage hormonal interventions for patients beginning and continuing cross gender hormonal therapy
Recognize the unique mental health problems and provide appropriate resources for those requiring referrals
Counsel on appropriate surgery options and referrals
During the rotation, participants will have the following opportunities:
To attend weekly educational lectures
To shadow medical providers at Lyon-Martin
To provide direct care to transgender patients in a supervised setting
Requirements
You are currently a 2nd year NP or PA student or 3rd or 4th year MD or DO student, resident, or fellow, in good standing
You are covered by your school's liability (malpractice) insurance
You have all of the vaccinations and immunities expected of a health care worker
You have been trained in universal precautions and HIPPA (privacy) requirements
Rotation Schedule
The elective is based on either a 4 weeks (40 hours/week) continuous attendance, or a 10-12 week rotation with weekly hours (8-16 hours/week). However, other scheduling options can be arranged.
More Information
If you are interested in learning more, please contact JM Jaffe. If you meet the above requirements, please complete and remit the Clinical Rotation Application.
Send completed application via email to jjaffe@lyon-martin.org or by snail mail to the address below:
JM Jaffe
Lyon-Martin Health Services
1748 Market St., Suite 201
San Francisco, CA 94102
415-901-7108